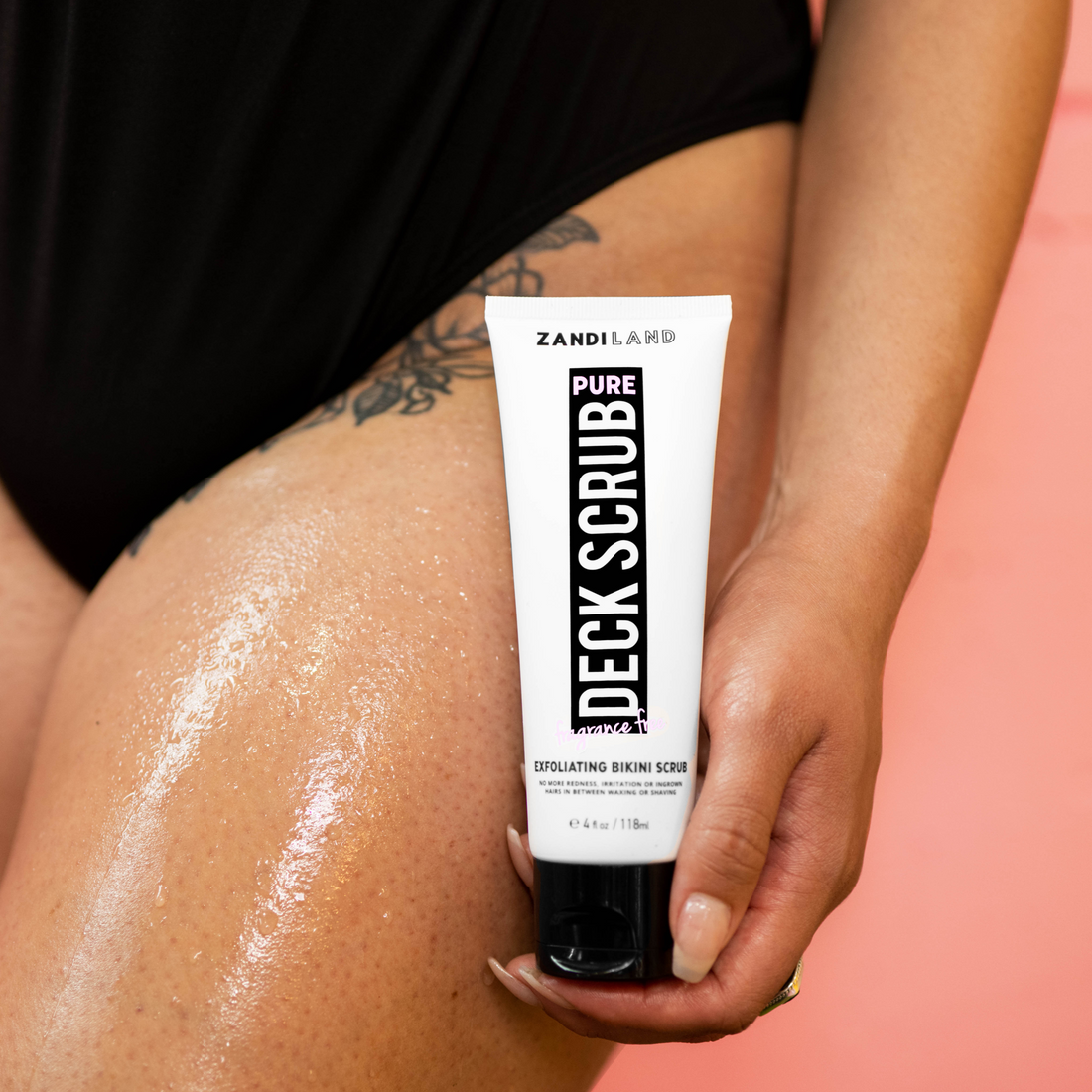 Deck Scrub Pure
Fragrance Free Exfoliating Bikini Scrub
Deck Scrub Pure
Fragrance Free Exfoliating Bikini Scrub
With Deck Scrub PURE in your shower, the only hard part is removing the hair. The easy part is keeping your deck smooth and exfoliated! Deck Scrub PURE was specifically designed to exfoliate skin to #keepitsimple while you #keepyourkitty pretty. Get that good exfoliation with our no-added fragrance formula enhanced with fractionated coconut oil for lightweight hydration perfect for oily or acne prone skin. 
Our Scrubs prevent and eliminate ingrown hairs, redness, and irritation in those sensitive areas. That means you'll keep that "Oh So Smooth" feeling right after waxing or shaving! Deck Scrub keeps all kitties pretty in between hair removal.  

And ditch scrubs packaged in jars - they get gross and diluted in showers. Our squeeze tube bottles protect the thick consistency of Deck Scrub's power-packed exfoliating formula so that it won't drip off your skin and run down the drain before having a chance to get the job done!
PURE formula is best for fragrance sensitive skin types who have oily or acne prone skin.
Use: Start using Deck Scrub PURE 48 hours after waxing or shaving. Continue using 2-4 times a week while in the shower or bath to prevent new growth being trapped under skin. Apply a liberal amount in circular motions to desired areas and rinse after. 
Key Ingredients
All Ingredients
Better Together
#kittycare
Using your deck scrub
Apply a liberal amount in circular motions to the areas where you wax or shave. Use Deck scrub 3-5 times a week for best results. For deeper exfoliation use on dry skin and rinse in shower or bath. For Best Results pair with Deck Polish and Deck Glow!
WORD ON THE STREET
Deck Scrub Pure is a product I truly can't live without! I am someone who is very ingrown prone, and deck scrub has helped me so much with combatting any ingrowns that pop up. The pure formula is so incredible for anyone who is sensitive to fragrance, or for anyone more oily like me! This scrub is gentle but incredibly effective when it comes to preventing and healing ingrown hairs.
I LOVE Deck Scrub PURE. I use it right before shaving to keep my bikini line beach ready
REVIEWS FROM YOU
Good stuff
I'm still new to this product. I haven't seen brightening yet, but it moistures my skin well
Excellent
I love the serum it smells amazing and I seen a difference in just 3 days of my inner thighs lighting
LOVE Deck Glow
I can't say enough about this product!
2 in 1 hydration and brightening
Easy to use, feels great going on and a little bit goes a long way! Made with great ingredients that won't clog your pores! Deck Glow is definitely part of my daily routine
Prefer to Buy In Person?
FIND A ZANDILAND RETAILER NEAR YOU